Black History 365
---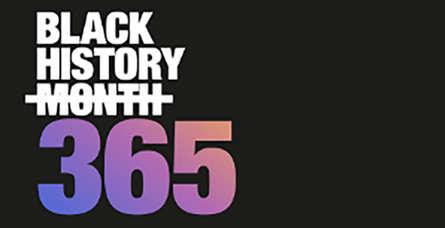 We are really excited that our campaign last year to remove the Month from Black History Month has begun to spread! As a school, we fundamentally disagree with only giving pupils a month each year to experience and celebrate the rich history and culture of African and Caribbean communities. Last year, we promoted our Black History 'Not Month' approach with other schools, the local authority and the diocese (and even in our letter to the late Queen Elizabeth II). The Royal Borough of Greenwich have published the following:
In support of the Black Lives Matter movement and Black History 365 (BH365), we want to provide a series of cultural events to connect our diverse communities and celebrate our black residents' heritage, such as:
Music, dance and theatrical performances and workshops
Historical and factual events
Art installations, exhibits and craft workshops
Poetry and spoken word
The change of language by the local authority from Month to 365, we believe, is a huge and positive step forward! The staff are passionate about celebrating the rich and vibrant history of our pupils' heritage and ethnicities, celebrating what it means to have dual identities – whether that is white and European or Black and British (or any other combination!) We have particularly enjoyed learning about heroes from all walks of life; those who have changed the world for the better, with many quoting their faith as their inspiration for their actions.
So far, we have learned about Strive Masiyiwa, Rose Hudson Wilkin, Nelson Mandela, Booker T Washington, Dr Mae Jemison, Les Isaac, Harriet Tubman, Olaudah Equiano, Frederick Douglas, Markus Rashford, Dua Lipa, Ignatius Sancho, Cicely Tyson, James McCune Smith to name just a few!
We've also re-written our curriculum to reduce the emphasis on the British Empire, and instead share with pupils the actions of Britain and other west European nations that led to the slave trade and the later abolition of slavery across Europe and America. In Geography, our map work allows pupils to study the rich diversity of the Caribbean and Americas, and in the following year, the African continent; building on pupils' prior learning of Ancient Egypt, the Roman and Greek empires across northern Africa, and culminating in learning about the impact and legacy of the Kingdom of Benin and King Oba Ewuare. Our French curriculum allows pupils to explore and compare the actions of France within the colonisation of Africa and the lasting influence of the overseas territories.
We are also continuing our mission to be advocates of social justice, campaigning for an end to modern-day slavery on Lake Volta in Ghana. We have partnered with International Justice Mission, a Christian anti-slavery charity to raise awareness of the problems facing families in northern Ghana, the risk of trafficking and deception, and the importance of the government strengthening laws to prosecute and punish those responsible. Last year, Abena Oppong-Asare came into school to meet with pupils to discuss her role as the MP for Erith and Thamesmead. Our pupils wasted no time in asking her about what she has done and is doing to combat and end modern-day slavery, and we are looking forward to welcoming her back to school again soon to update our pupils!
Following an excited discussion with pupils, we hosted an "African Day" in November. It was a wonderful opportunity to share with pupils and staff some of the home languages spoken by our families, as well as food, music and dance from West Africa. (If any parents or carers would be willing to come into school and share a story in Yoruba, Igbo, Akan, Twi, Hausa or any other west African languages or dialects at any time of the year, we would love to hear from you!) We enjoyed a more authentic African menu for the day. Mr Cotton, Mr Elegbede and Mr O'Leary also led us in a rich celebration of African drumming for our pupils throughout the day as well. Naturally, there was also be a non-uniform day; with children encouraged to wear clothing that reflects their heritage or clothing that celebrates our school's rich community heritage.
If you have any suggestions or ideas, for how we can continue to enrich our curriculum and school experience for our pupils, please share these with either your child's class teacher or a member of the senior team.
"Children are a gift from the Lord, they are a real blessing." Psalm 127:3