AAA Club
---
All pupils at BJR CofE Primary are able to join the 'Triple A Club'. We reference the idea that our behaviour and attitudes and help us to 'Access All Areas' of life, give us aspirations to change the world for the better and to excel in our learning and personal development.
The three categories of the 'Triple A Club' are:
· Application - how well does the child (or member of staff) apply themselves in school, to their tasks and activities, as well as their approach to homework and extra curricular activities.
· Attitude - how well is the child (or member of staff) aware of their mental health, emotions and how their actions are received by others. [We are going to learn so much about this over the coming years through our MyHappyMind program!]
· Appearance - how much does the child (or member of staff) take pride in their appearance at school, ensuring that they set the best example possible of what a member of the BJR family can be.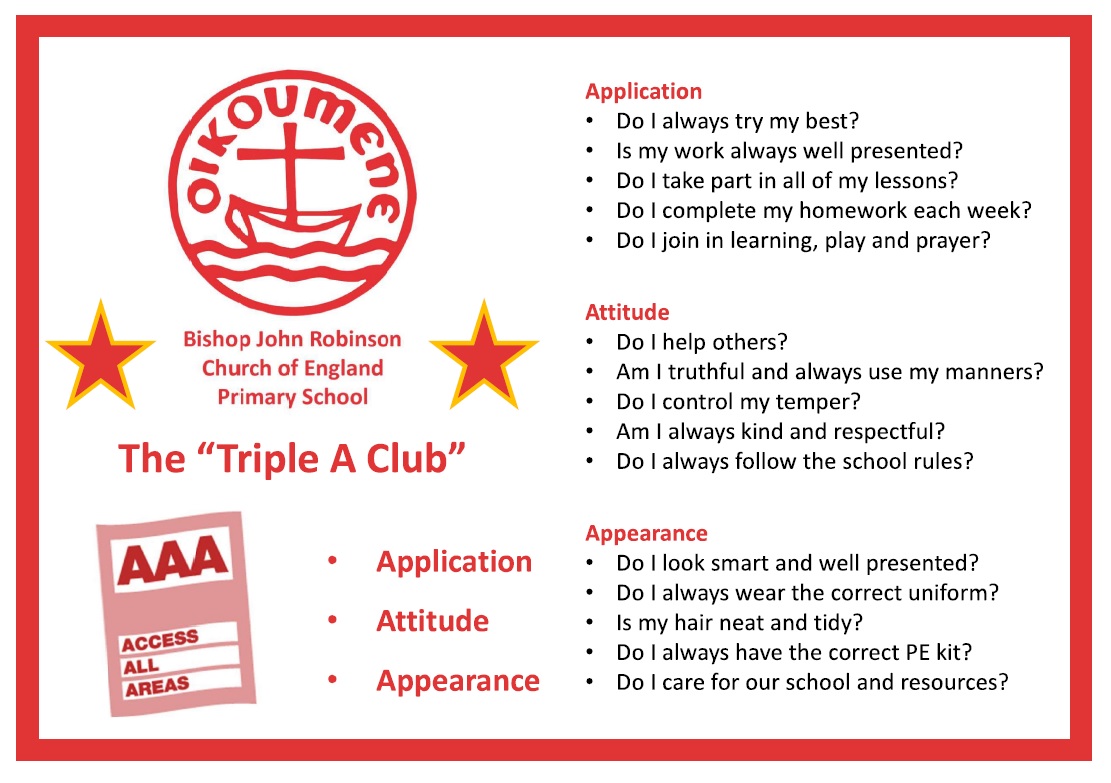 Children can be nominated by any adult in the school (and staff can also be nominated by pupils!) They just need 15 'Yes' answers to the questions above!
Any and every child and member of staff can be nominated and welcomed into the AAA Club, and will then be invited to extra events throughout the year - this could be exclusive festive parties, meetings with visitors, fun days and extra activities etc.
If you would like any further information about the AAA Club, please speak to your child' class teacher.
| | | |
| --- | --- | --- |
| | "Whatever you do, work at it with all your heart, as though you were working for the Lord and not for people." Colossians 3:23 | |